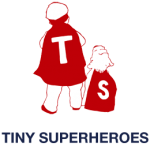 The Urban Education Program at TCNJ is proud to partner with Tiny Superheroes to empower children everywhere.
TinySuperheroes seeks to empower Extraordinary kids — one cape at a time. They donate capes to Extraordinary TinySuperheroes who exemplify strength and determination as they overcome illness or disability. Once these Extraordinary TinySuperheroes are comfortable in their new capes, they are featured on the Tiny Superheroes blog, in hopes of giving them a voice, their illness or disability a face, and the world the opportunity to stretch.
TCNJ TS Headquarters is room 105 (Urban Ed Center) in the Education Building. Please join us on Mondays beginning in September. Our job is to make the Superhero masks to go with the capes. There will always be someone there to show you how so please join us.
For more info about Tiny Superheroes please watch this video http://www.karmatube.org/videos.php?id=4180
We are happy to accept donations of felt, thread or one inch elastic. Or, you can sponsor the creation of a mask by donating $5 at http://tinyurl.com/tinytcnj